Production
TURBOMIXERS
& COOLERS

Mixing systems for powders and masterbatch. Higher performance, higher savings. For mixing plant engineers, the ability to mix PVC powders quick enough in order to obtain immediately usable products ready for their extrusion lines is essential.
To meet this need, we developed a New Turbomixer with a directly coupled shaft, thanks to an innovative patent that allows us to confidently guarantee customers a higher production output. Preliminary results point to a 30% increase in output, with significant energy savings (using engines with the same power as before).
**Turbomixers
The temperature-mixing system of the compound through friction and vortex created by the blades is the ideal solution for a faster preparation of compounds, which are subsequently cooled by specific coolers.
**Coolers
Coupled with our turbomixers, our coolers are horizontally developed to ensure a wide contact surface, allowing for a more effective compound cooling.
higher compared to traditional machines.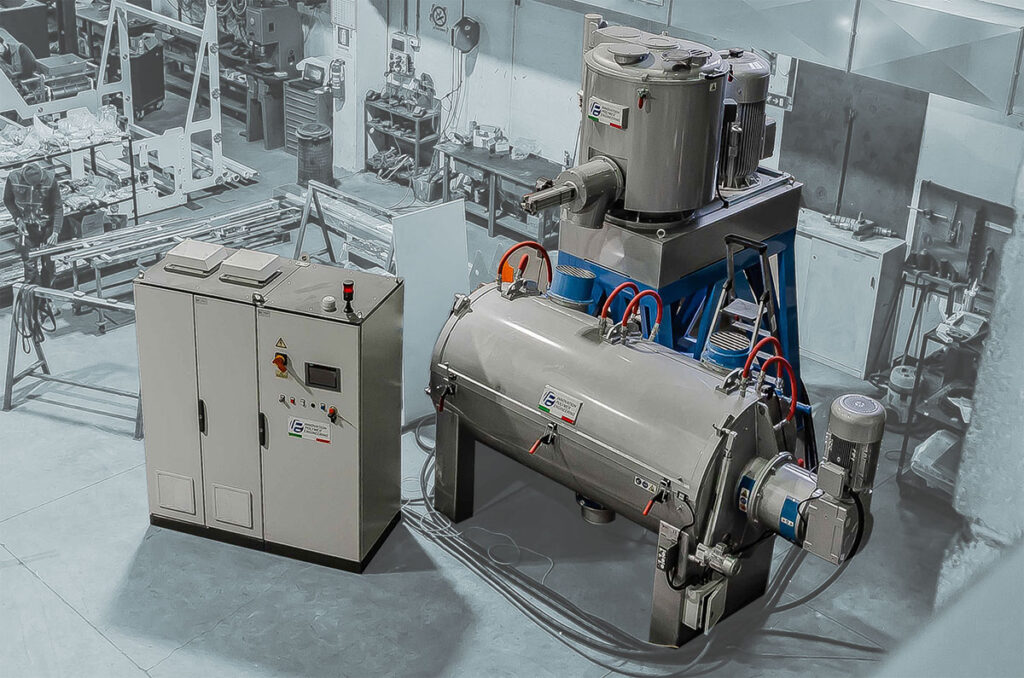 • A large heat exchange surface
• Intensive cooling with forced circulation of water in the cylinder and shoulders' interspace.
Contact us
IPE, your solution for cutting-edge rotational moulding and innovative mixing machines.
IPE ROTOMIX
Innovation Polymer Engineering: Customized and automated solutions in the world of rotational molding and turbo-mixing. Passion and efficiency for the plastics industry, from Italy to the whole world, in partnership with DP Group.
REGISTERED OFFICE
Via Giordano Bruno 8
21013 Gallarate (Va) – ITALY
OPERATIONAL HEADQUARTER
Via Olona 195
21013 Gallarate (Va) – ITALY